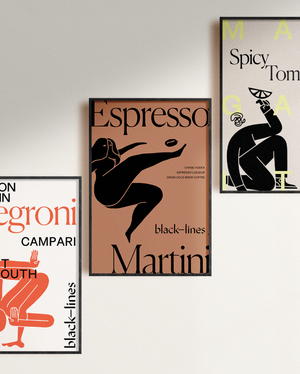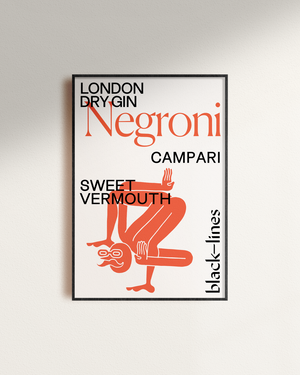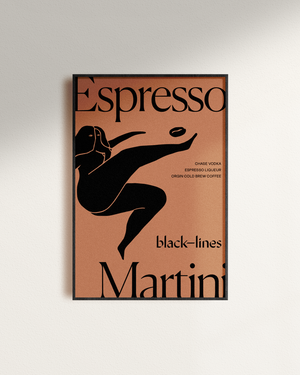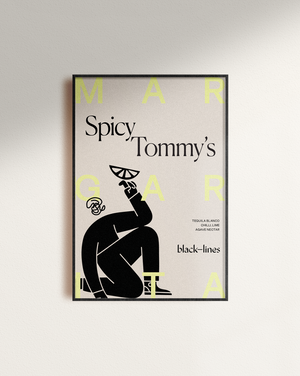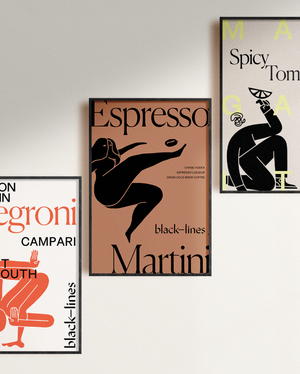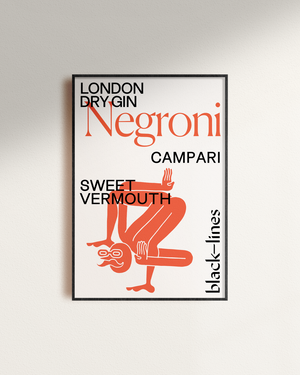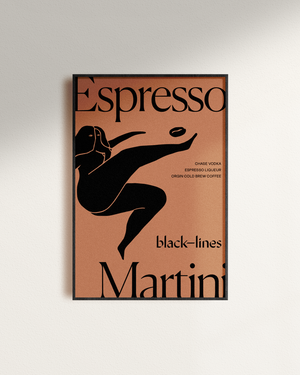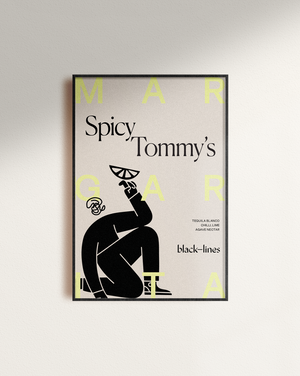 The Holy Triumvirate - A2 Prints
The Holy Triumvirate of Black Lines Cocktail Prints. Why have one when you can have them all? All of your wall deserve a cocktail.
A2 Print on Hahnemuhle Museum Etching.

Full bleed.

(420mm x 590mm)
Hand printed, rolled & tubed in East London. Tax included. Free shipping with orders over £40.
Meet the Illustratosr
Spencer Gabor
Brooklyn based illustrator Spencer Gabor creates mayhem and vibrancy in his character focused scenes. He has a penchant for geometric and playful characters. We loved his work as soon as we saw it, it was then a case of reigning him in to create a simple, slick Californian cool character which would work in one colour. He of course nailed it, despite being an East coaster.
See their work
Anna Soba
Anna is a fantastic young Polish Artist currently living and working in Brighton. Her work is predominantly black and white with occasional pops of colour throughout, making her an easy and exciting pick for us here at Black Lines. Cats, snakes, Catman and the strong, independent Catwoman are the stars of her traditional work and fill her Instagram feed. Their tricky poses and unexpected situations are sure to make you smile.
See their work
Jamie Muck
Jamie is a talented illustrator, graphic designer and painter from Bristol. He uses clean black lines and loud block-fill colouring in his designs, with influence from neo-graffiti and pop art. He loves to design characters, developing charismatic, animated figures that have previously gone on to decorate record sleeves and magazine articles.  The equally charismatic character for our Negroni was born during a brief hiatus from his travels across Australia.
See their work
History
History
First mixed in Florence, Italy, in 1919, at Caffè Casoni, Count Camillo Negroni concocted it by asking the bartender, Fosco Scarselli, to strengthen his favourite cocktail, the Americano, by replacing soda with Gin. The bartender also added an orange garnish rather than the typical lemon garnish to signify that it was a different drink. Author Orson Welles once described the drink - "The bitters are excellent for your liver, the gin is bad for you. They balance each other."
Dietary
Dietary.
The Black Lines Negroni contains Sulphites. It is Gluten Free and Dairy Free.
Print Quality
Print Quality
Giclée print on Natural White Hahnemühle Museum Etching. This is a natural white cotton art paper with an inkjet coating specially optimised for FineArt printing. The premium matt inkjet coating ensure colours are wonderfully vivid, the depth of the blacks truly stands out and details are reproduced perfectly. Lignin and acid free, it's extremely resistant to ageing.
Shipping
Shipping.
London - HIVED Zero Emission Next Day or 2-Day for orders placed pre-12pm Mon-Fri
UK Mainland (excl. Highlands & NI) - DPD Next Working Day for orders placed pre-12pm Mon-Fri