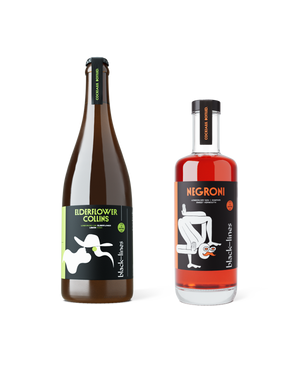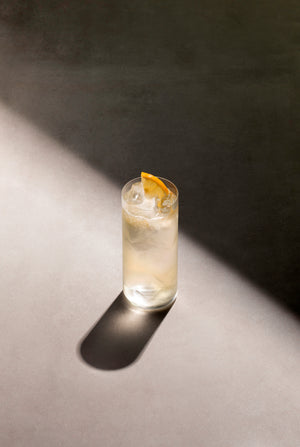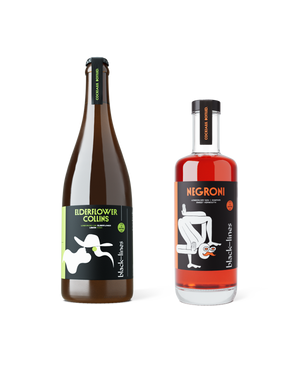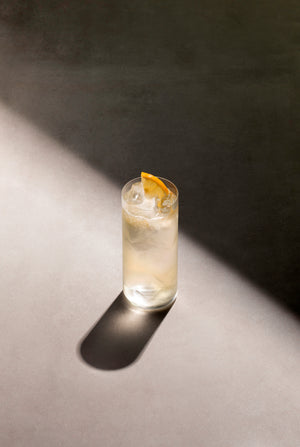 The Gin Lover
1x Elderflower Collins | 1x Negroni
It's that time of year again; everywhere you look it's Gin. Gin, Gin, Gin. So, if you're looking to send a gift to that mate who only guzzles Gin, or if in fact, you only guzzle Gin, we've got you covered.
The perfect Gin Bundle of our Elderflower Collins & Negroni.
Elderflower Collins
The best of Britain. Clean, crisp, and dangerously quaffable; a balance of London-distilled Gin and delicate Elderflower, finished with a splash of crisp, fresh lemon and soda. Serve over ice in a highball glass with a slice of fresh Lemon for garnish.
Negroni
Florence, Italy, 1919. Count Camillo Negroni asked the bartender to strengthen his favourite cocktail, 'The Americano', by replacing the soda with Gin. Adding an orange slice to signify the new drink, the Negroni was born.
2 x 5 serves total
EAN: 0793618087043
The Serves
The Serves
The Paloma - Margaritas better looking sister. Bittersweet grapefruit, crisp citrus and a hint of Maldon salt balanced with vegetal, agave notes for a refreshing and complex carbonated highball serve.
The Spicy Tommy's Margarita. The sweet vegetal notes of the agave balance out the sharp acidity from the fresh lime juice. White pepper notes from the Tequila tingle throughout aftertaste. Added chilli for a BL kick.
Dietary
Dietary.
These Black Lines serves are gluten free, dairy free and suitable for vegans.
How to Serve
How to Serve.
Get the bottles in the fridge before serving. The colder the better
Grab their desired glass, as written on the side of the bottle. this can also be chilled before serving.
Fill the glass with a healthy amount of ice.
Pour the amount suggested on the bottle into the desired glass
Simply top with said garnish
Shipping
Shipping.
All orders are shipped with Next Working Day Delivery with DPD. Orders placed between Monday and Thursday at midday, will be delivered the next day. Orders placed after Thursday at midday will be delivered on Tuesday. For London orders with have HIVED Zero-Emission Next Day Delivery available as well.